Digital Marketing Company In Tirupur
We are in the digital world. Life has become simple, fast and at our doorstep all in just one click. We realized this, that's when we decided to take digital marketing, which was booming technology across the globe. We are now successful in digital marketing. It includes SEO, SMM (Social Media Marketing), Content Writing, E-mail Marketing. Along with this, we also do B2B, B2C, Logo& Brand design. Our favors to our customers in marketing their business and creating a brand for them have drastically increased their revenue and customer relationship with their business.
Search Engine Optimization(SEO)
We use SEO (Search Engine Optimisation), to rank for potential keywords and phrases, which brings in quality traffic and lead conversions. We adhere to Google guidelines to help the customers to increase business growth gradually for the long term.
Social Media Marketing(SMM)
We hold an extremely dedicated team that works on Social media marketing specific to objective customers. We work on re-targeting. Our skilled team uses creative and innovative concepts in marketing, which reach more end users. Our approach gets more engagements, interactions, and followers on social media.
Email Marketing
Email marketing is the upcoming strategy in digital marketing. We use concepts like cold emailing, email lists, Block list. Apart from this, we use email tools.
Content Writing
Content is the key essence when it comes to marketing. We write unique content for products to achieve more sales. Our contents are SEO friendly and human written content that connects the public easily. We also write blogs and press releases.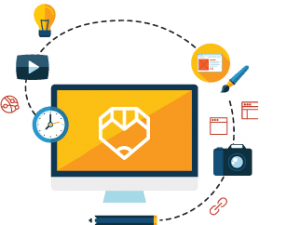 Logo Design & Branding
We design innovative and attractive logos, which describe our partner's business. Our focuses are on holistic marketing the brands online as well as offline.
WE ARE FRIENDZION A Classic Software Company
We are Progressing in business with the right blend of experience and intelligence among the various IT companies:
we aim is to acquire a complete understanding of one's workflow, objectives, and requirements and provide the apt and best solution.
We have a very friendly infrastructure, with a techie brain team that is skilled with the latest technologies available in the industry.
This helps us to deliver excellence to the demanding industry within the committed short time accurately.
We are now 20 young and passion-driven techies. Our aspiration towards the latest technologies, innovative ideas, and automation in various technology industries has given Zeal to our career paths.